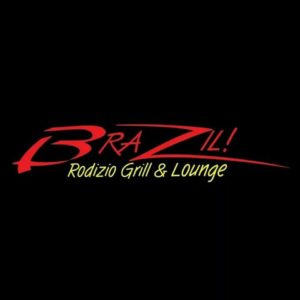 Brazil Rodizio Grill is an authentic, Brazilian style Steakhouse with a simple concept; Brazil gives you more – more of everything… food, drinks, service and ambience.
Once you set at your table, your Brazilian style dining experience begins. you can relax and enjoy one of our favourite cocktails, or you can head straight over to our fabulous unlimited salad bar for selection of seasonal salads, cheeses, pasta and other side dishes.
The real experience begins as our Passadors (Carvers) move between tables, offering our select cuts of Beef, Lamb, Prawns, Chicken and Sausages, all slowly cooked over natural charcoal fire to preserve all their natural juices and flavours. Tender morsels are brought to you on skewers and expertly carved at your table
To further accompany this feast, dishes such as potato wedges, fried banana and artisan cheese breads are served to your table for you to enjoy. Throughout your meal, you can enjoy unlimited drinks and for dessert try our delightful Charcoal-Grilled Pineapple, Banana Flambada, Home recipe Chocolate Cake or simply the traditional fruit salad.
Join us for a dining experience that dates back hundreds of years to the cowboys of Southern Brazil. Times may have changed, but we're sure that our food, service and hospitality, is just how they would have had it!!!
Private Functions
If you are thinking about having a private function or a party be it just celebrating someone's birthday, wedding or company staff gathering, we can offer you options to suite your requirement up to a maximum of 80 guests to enjoy Brazil experience. Our team will do everything possible to ensure your ideas and needs are fully met. We also have a variety of options for lunch parties during the day and full restaurant buyouts. Brazil offers a unique wine list along with a menu based on sustainable seasonal ingredients. We are able to make your private event a truly unforgettable experience with an exclusive menu created by our Chef specifically for your party. Large or small, we make sure that your event will leave all the guests happy with service and delighted with food.