Hyundai Elantra 2020
Live your boldest life , Bold never blends.
Features
New and more efficient automatic transmission

More safety features and driver aids are now standard

Dual-zone automatic climate control now comes standard

Part of the sixth Elantra generation introduced for 2017
Overview
Variety and value remain at the core of the 2020 Hyundai Elantra's appeal. This sharp-looking compact sedan possesses a rich set of features and a lower price than comparable rivals from Honda, Mazda and Toyota. And with three engines and four trim levels, it's easy to find an Elantra to suit all tastes, whether you're primarily looking for fuel economy or something with a bit more style and spirit.Hyundai has made a ton of changes last year. They switched to the angular styling and now for 2020 they are shaking up the powertrain with a new continuously variable transmission that's why we're want to see how these changes affect the overall package. The latest round of updates have improved Hyundai's best selling model.
Design
Exterior
Starting out with the exterior  Hyundai took a knife to the Elantra just last year to give it this new geometric design. Every trim comes with this same grille except the sport which has a honeycomb design instead of the silver bars but by far the most distinct element of the front are these Triangle-shaped headlights. On lower end models like this SEL the bulb is halogen and surrounded by chrome trim But if you choose the sport or limited the headlights become LED and the chrome trim becomes an LED daytime running light. Finally,the turn signal is separated at the bottom as far as the side In fact the same angular design carries over from last year all models have a built-in lip spoiler with the launcher spelled out across the back. Then in a similar way to the front the taillights are angular and it would be changed to LEDs on the limited and sport But overall, last year Whether or not you like the styling You have to admit that it does make the car stand out a lot more than most of the humdrum competition. Now checking out the wheels Obviously this SEL it gets fairly small 16 inch alloys which are also shared with the value addition But there are 17 and 18 inch wheel options available on the limited and the sport respectively. The remaining eco and se trims both have 15 inch steel wheels with hubcaps Coming out to the mirrors, they're always body-colored and power adjusting but you have to get at least the SEL for heating Additionally. Hyundai throws in blind spot monitoring on all but the very base se model Speaking of the safety systems that's one of the main areas that gets updated for 2020. Front emergency braking lane-keeping assist and driver attention assist are now standard on all models including the base se pedestrian detection Adaptive cruise control and auto high beams. Remain available on the upper trims Finally we'll end things here on the outside with the fuel tank.
Interior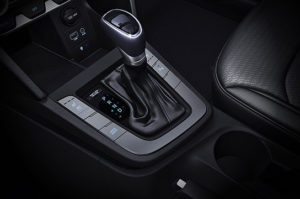 Now let's go ahead and get inside and see what they've changed. You're gonna get Hyundai smart entry system. Now Hyundai Just keep things very simple when it comes to your interior material and color selections So on your base model through your eco trim that's going to come with this cloth seating in your choice of beige gray or black. Going out to the sport or the limited is going to get you leather seating. It comes in those same three colors Except for the sport, which is actually only black Now turning over here to your door trim, it is nicely appointed It's the same as the Elantra has always been so here on the lower end models We have a padded armrest with a cloth trim above it. And then the top part is hard touch As far as your windows they are auto down for the driver only and You would also find two-person memory seating if you go for the limited with the ultimate package Checking out the seat here the vast majority models will come with this six way manual seat However, you will have a power seat if you go for the limited trim and Then as far as this cloth, I'm actually really pleased with it It's very nice-looking got this like little shapes in the in the cloth. It also feels very soft And you do have a stitching detail as well.For an affordable Vehicle you do have hard touch plastics down here But as you can clearly see everything does fit together very well and it feels really really solid So, of course as you've already seen we do have the traditional key here on the SEL But if you want for the value addition or up, you're gonna have the push-button start And then turning over here to your display. This is the seven-inch display which comes on the vast majority of models starting on this SEL and going all the way up to the top end model. And on the base se you're gonna have a 5-inch display instead. It's now a  Display like an LCD display versus kind of the old-fashioned calculator text is the best way I can explain it So as you can see, everything is a lot more clear a lot less crunchy But it does contain more or less the same kinds of information as before including for your newly standard safety systems Then heading back to your steering wheel you have electric power assisted steering and the updated steering wheel from last year Being the SEL. This is just the urethane steering wheel, but if you have a value addition up you do have leather wrapping And then as far as your buttons, you do have pretty nice high quality buttons on both sides including for your cruise control As far as the steering wheel itself it is manually tilt and telescoping and heating is not available now As far as interior storage the Elantra does really well for a vehicle in this size category I'm still starting out over here with your center console We can open it up as you can see this is actually quite large for a vehicle in this size group Like I said, I mean you do have a nice felt lining at the bottom In front of that, we've got our two cupholders and Then the nicest thing is this large bin up here in the front This is really deep plenty space for a phone or whatnot You do also have two twelve volt outlets an aux track and your USB port charging USB port Now back behind.
Performance
let's go ahead and talk about those powertrain changes that we mentioned a little bit earlier So as far as the changes they're not affecting the engines so we'll start there most of the models come with the standard 2-liter engine 4-cylinder engine with 147 horsepower and 132 pound-feet of torque however, there does continue to be two other engine options a 1.4 liter turbo and a 1.6 liter turbo in the Eco model and the sport model respectively and those are producing 128 horsepower and 201 horsepower but as far as the most important change That's that we now have a continuously variable transmission for 2020 with the 2-liter model So that's the model that most people Choose because since it said most of the trim levels and that replaces the previous six-speed automatic transmission The six-speed manual model has also been eliminated from both the base model and the Sport trim so now we just have full automatic transmissions across all Elantras and Then the sport and eco models do continue to come with the 7-speed dual-clutch transmission Now, of course, the reason why we have adopted a CVT is for fuel economy And it doesn't it gains a two mpg combined So it's definitely pretty good and it brings it up towards the top end of the class So now we're rated at 9 city 16 highway 14 combined so definitely very good V that actually brings it almost to the same level as the Eco model which remains at the same 9 16 14 combined And then if you go for the sport model, you have a feel economy penalty It comes in at 12 combined. But anyways without further ado Let's go ahead and take it out in the road and see how that CVT impacts the driving dynamics All right, so taking off and getting up to speed in the 2020 Hyundai Elantra with the new CVT One of the things I noticed right off the bat as the strong shift simulation so That's definitely nice to see it makes it a lot less of a of a change from the previous six-speed Automatic in the way that it feels because the simulation is You know, it's showing the simulation not just visually but I can also have that of the feel as well Other thing I'm noticing is just under you know, regular everyday acceleration is just how little Noise or anything like some CVT is kind of make the engine just go up rev up a whole bunch even at low speed but if I'm not really pushing on it then We're really getting very little reaction from the transmission.
Technology
The latest Hyundai Elantra is offered in six trim levels: SE, SEL, Value, fuel-efficient Eco, Sport and upscale Limited.
The base-level SE comes standard with air conditioning, a 6-speaker sound system, power accessories (windows, mirrors and locks), a 60/40 split-folding back seat, a tilt-and-telescopic steering wheel with audio and Bluetooth controls, a 5-in color touchscreen radio with rear backup camera and six speakers. Also standard are cruise control, dual zone automatic climate control, forward-collision mitigation, lane-keeping assist and a driver attention warning system.
The SEL adds 16-in alloy wheels, a 7-in touchscreen radio with Android Auto and Apple CarPlay smartphone integration, 4-wheel disc brakes, automatic headlights, heated mirrors, lane-departure warning, a blind spot monitoring system and rear cross-traffic alert
The Value adds a power sunroof, LED daytime running lights, a hands-free power trunk opener, heated front seats, proximity key with push-button start and dual illuminated vanity mirrors.
The Eco builds on the Value but substitutes a 1.4-liter turbocharged engine, unique 15-in alloy wheels and a unique 7-speed dual-clutch automatic transmission.
The Sport gains a 1.6-liter turbocharged engine, a 7-speed dual-clutch automatic transmission, 18-in alloy wheels, multilink rear suspension, sport tuned suspension, a sport front grille, a sport rear diffuser, a power sunroof, LED headlights, leather sport front seats, sport instrument gauge cluster, a hands-free smart trunk release and a black headliner.
Topping the range is the Limited, which adds 17-in alloy wheels, leather seats, a 7-in touchscreen audio system, a Qi wireless charging pad, an 8-speaker Infinity sound system, a power driver's seat with lumbar support, auto high-beam assist, Blue Link Connected services plus a leather-wrapped steering wheel and shift knob.
Optional on the Sport is the Premium package that adds navigation with an 8-in touchscreen, an 8-speaker Infinity audio system, the full Blue Link suite of service for three years.
Optional on the Limited is the Ultimate Package , which adds a power sunroof, an 8-in center touchscreen, navigation, forward-collision warning with pedestrian detection, adaptive cruise control and driver memory settings.
Safety
Standard safety features on all models are anti-lock brakes, side-curtain airbags and traction control with stability control, forward-collision mitigation, lane-keeping assist, driver attention monitor and a backup camera. Higher trims add rear cross-traffic alert system and blind spot monitoring, forward-collision warning with pedestrian detection.
In government crash test, the National Highway Traffic Safety Administration (NHTSA) gives the Elantra a 4-star rating overall, but with a safety concern warning for the rear-seat passenger in the side impact test. The Insurance Institute for Highway Safety (IIHS) gives the Elantra excellent marks in all crash tests and awarded it a Top Safety Pick+ award.