The Samsung Galaxy Note 10+ delivers good battery life and a super bright elegant screen in an amazingly compact design mobile phone.
Camera:
Samsung Note10plus five cameras offer a Live Focus portrait mode with fun-to-use filters. Although the Pixel 3 beats Samsung's main cameras in low light, the selective black-and-white color Point and Big Circles filters took our selfie game to the next level. Samsung Note 10 Plus has the best selfie camera.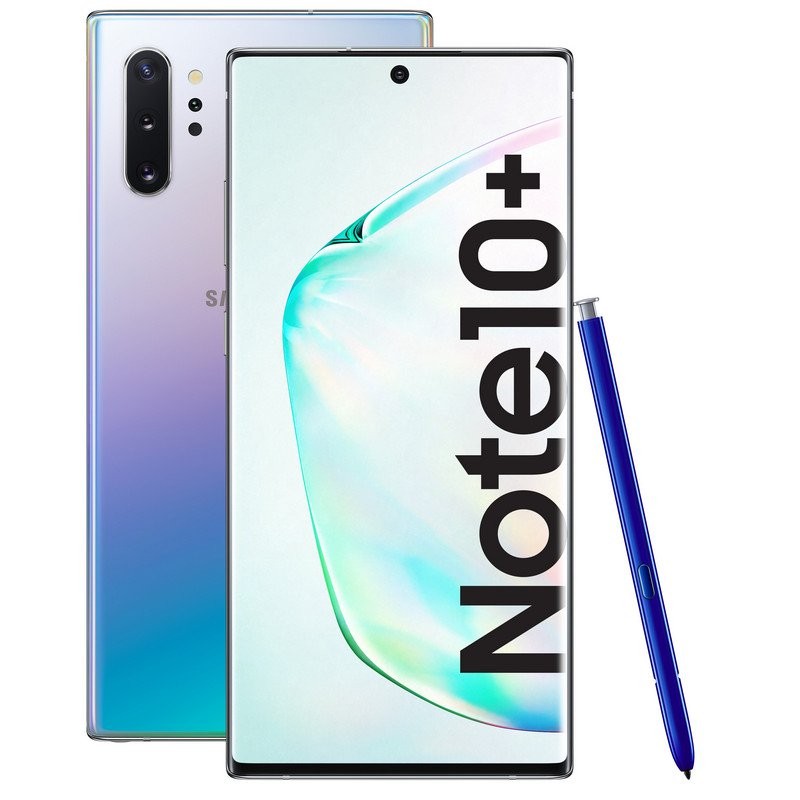 GALAXY NOTE 10 SPECS
Weight: 196g
Dimensions: 162.3 x 77.2 x 7.9 mm
OS: Android 9
Screen size: 6.8-inch
Resolution: QHD+
CPU: Octa-core chipset
RAM: 12GB
Storage: 256GB/512GB
Battery: 4,300mAh
Rear camera: 16MP + 12MP + 12MP + VGA
Front camera: 10MP
Waterproof: IP68
Headphone jack: NO!
Stylus: S Pen
Display:
– Massive 6.8-inch Quad HD+ screen lends itself to the S Pen for notes
– Center punch-hole embeds front camera inside the display
– The punch-hole is 26% smaller than the S10 Plus camera hole
– Beware of annoying false touches from lack of bezel
The 6.8-inch Samsung Galaxy Note 10 Plus screen is so big that we're kind of craving the innovation of the Samsung Galaxy.
It takes up the entire front of the phone and then some, with an edge-to-edge design that has pixels spilling over the left and right sides. The curved display comes to a fine point, making it satisfyingly sharp in more ways than one.
Samsung's use of punchy colors, a pixel-dense Quad HD+ resolution, and high peak brightness have always made its Super AMOLED screens look superb. It's just now maximized to seem extra immersive and worth all of that hand stretching.
Design:
– Slick glass back means you'll want a case to avoid dropping it
– No headphone jack, but microSD card slot remains on the Plus
– Colors: Aura Glow, Aura Black, Aura White, Aura Pink, Aura Red
The traditional 3.5mm headphone jack isn't here. Instead, Samsung uses the USB-C port so you can plug in included-in-the-box USB-C headphones
S Pen magic tricks
– The best way to jot down notes, markup screenshots, and sign forms
– Returning features we love: Remote Camera Shutter, Screen Off Memo
– New gimmicks: Air Gestures, 'better' handwriting recognition are just okay
Battery
– More than all-day battery life with the default Full HD resolution
– The 4,300mAh battery capacity is the largest on a Samsung phone
– 25W charger included for fast charging, but compatible with 45W
The Samsung Galaxy Note 10 Plus battery life will get you through more than a day, and it charges much more quickly than previous Samsung phones.
More-than-all-day-battery achievement is aided by Samsung's power management having been greatly refined over the years and the fact that the QuadHD+ display resolution isn't on by default – it's set to 1080p out of the box.
Interface
– Samsung's One UI interface makes it easy to reach menus on big phones
– Dex works sans a dock – just plug the Note 10 Plus into a laptop via USB-C
– We'd like the see Mac/PC Samsung apps for Apple-like 'Continuity'
– 'The new Bixby' is the same AI that has trouble understanding us
Samsung's software has been redesigned to be logically laid out on such a tall device – everything is easy to reach within its menu system, and the camera app is among the most robust without feeling overly complicated.
Performance
– One of the fastest Android phones, but not actually 'the fastest'
– 12GB of RAM is more than enough for Dex desktop web browsing
– 256GB or 512GB of internal storage
– MicroSD card slot for expandable storage (not in the smaller Note)
As you'd expect from a new Note 10 Plus is among the fastest phones out today. Sure, last year's iPhone and a few other Androids are a smidge faster, but that's mostly about bragging rights at this point.
OUR VERDICT
The Galaxy Note 10 Plus is Samsung's biggest and most powerful phone yet, and its Aura colors almost symbolically reflect smartphone luxury top to bottom. The hand-stretching 6.8-inch display is perfectly paired with the S Pen and an extra-big battery. Sure, it's technically neither the fastest nor the best camera phone, but it's the most fun we've had testing a phone in 2019 thanks to its five cameras and smart photo filters. This is one to get if you want to bask in pre-foldable phone opulence.